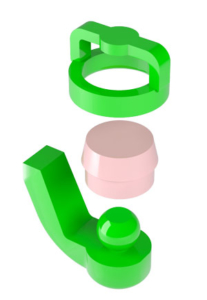 The extracoronal OT Cap castable attachments are used in combination prostheses, frames, connecting bars on natural teeth, roots and implants.
On prosthetic projects with a rigid structure with appropriate milling and counterattacks, they work as retentive stabilizer buttons.
In resilient prosthetics without milling, they work with shock-like yielding due to the flat ball head and the elastic retentive caps.
It is also possible to manage the seal by applying the appropriate colored cap and seal. At the discretion, in addition to the nylon-only caps, the TITAN CAP caps can also be applied. OT CAP TECNO attachments must be considered precision attachments.
The titanium sphere and the titanium ring incorporated in the nylon cap are mechanically constructed with calculated tolerances that ensure good accuracy.
In addition, the etching during the processing does not run any risks due to sandblasting, polishing and various passages in the kiln firing furnace, since the ball-attachment is fixed in parallel on the die only when the work is finished.