TEMPORARY DENTURE WITH WIRE REINFORCEMENT
TITANIUM ABUTMENT WITH LATERAL HOLES
h 1,8mm
TITANIUM ABUTMENT WITH LATERAL HOLES
h 3mm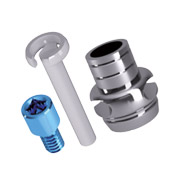 TITANIUM ABUTMENT WITH LATERAL HOLES FOR TEMPORARY
RESIN BRIDGE WITH WIRE-REINFORCMENT
Ref. CMTFP
Set content:
• 1 TITANIUM ABUTMENT WITH LATERAL HOLES h1,8mm (ONLY AVAILABLE WITH Ø 4,0mm)
• 1 TITANIUM SCREW h2mm
• 2 WHITE SEEGERS WITH HANDLE
---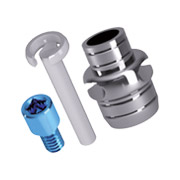 TITANIUM ABUTMENT WITH LATERAL HOLES FOR TEMPORARY
RESIN BRIDGE WITH WIRE-REINFORCMENT
Ref. CMTB30FP
SET CONTENT:
• 1 TITANIUM ABUTMENT WITH LATERAL HOLES h3mm (ONLY AVAILABLE WITH Ø 4,0mm)
• 1 TITANIUM SCREW h2mm
• 2 WHITE SEEGERS WITH HANDLE
---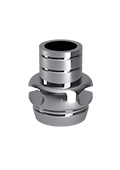 Ref. MTFP
• 1 TITANIUM ABUTMENT
WITH LATERAL HOLES FOR TEMPORARY RESIN BRIDGE
WITH WIRE-REINFORCMENT h1,8mm (ONLY AVAILABLE WITH Ø 4,0mm)
---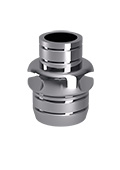 Ref. MTB30FP
• 1 TITANIUM ABUTMENT
WITH LATERAL HOLES FOR TEMPORARY RESIN BRIDGE
WITH WIRE-REINFORCMENT h3mm (ONLY AVAILABLE WITH Ø 4,0mm)
---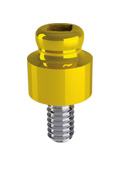 Ref. 030
• 1 OT EQUATOR TITANIUM ABUTMENT WITH TiN COATING
---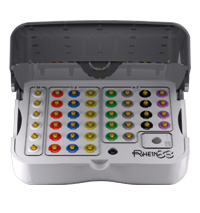 Ref. BE42
+ n° 42 Ot Equator
(Ref. 030 to be chosen)
• 1 ASSORTMENT SET (autoclavable) + 42 OT EQUATOR +TiN ABUTMENTS
THE SET42 CAN BE CUSTOMIZED ON THE BASIS OF THE IMPLANTS BRANDS, IMPLANTS
DIAMETERS AND CUFF HEIGHTS DESIRED. PLEASE INDICATE, IN THE ORDER, THE QUANTITY
AND THE ABOVE SPECIFICATIONS FOR EVERY KIND OF ABUTMENT.
---

Ref. VC
• 1 TITANIUM SCREW h2mm
---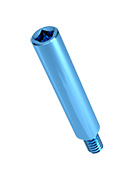 Ref. VXL
• 1 TITANIUM SCREW h11,5mm
---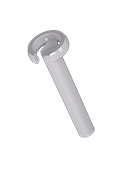 Ref. SM6
• 6 WHITE SEEGERS WITH HANDLE (standard retention)
---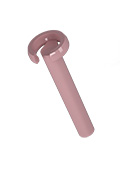 Ref. SRM6
• 6 PINK SEEGERS WITH HANDLE (SOFT RETENTION)
---

Ref. TPM2
• 2 MINI IMPRESSION COPINGS h3,7mm
---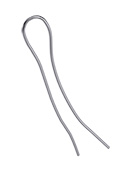 Ref. HR800
• 1 TITANIUM WIRE WITHOUT ELASTIC MEMORY Ø 1,0mm
---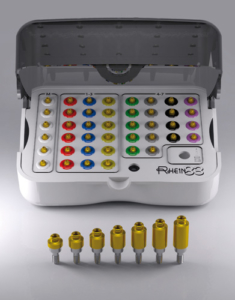 The autoclavable KIT 42 (BE42 + 42 Ot Equator of your choice) It is particularly indicated for those who load immediately because it allows to have OT Equator abutments with all the desired heights. The kit 42 can be customized according to the brands, diameters and preferred heights.
Available heights:
for internal hexagon systems from 0.5 to 7mm
for external hexagon systems from 2 to 7mm
The KIT 42 is produced and shipped within 5 days from the order, it is necessary to indicate:  implant brand, diameter and height.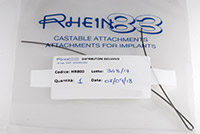 Titanium wire for the construction of wire reinforced
frameworks.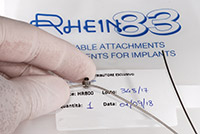 Titanium wire inserted into the
lateral hole (ø 1mm ) of the abutment.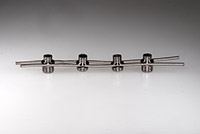 Insert the titanium wire into all lateral holes of the the titanium
abutments.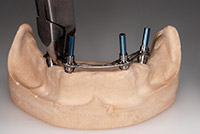 Screw the titanium abutments with lateral holes one
at a time and bend the titanium wire accordingly so to
follow the correct gingival and prosthetic profile.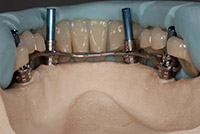 The teeth are positioned and shaped accordingly to
the mask and the available spaces.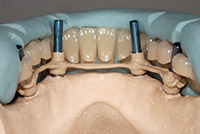 The titanium abutments with lateral holes can be
adapted accordingly to the available spaces and
being properly opacified and then embodied with
self-curing aesthetic resin.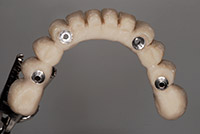 The titanium abutments with lateral holes do not have the Extragrade bevel, so if necessary it can be made manually, once the work is finished, paying the utmost attention in doing it always on the divergent side.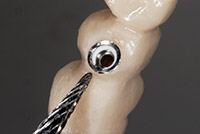 It is fundamental to position the Seegers so that their open side is in correspondence with the undercut created by the tilted implant.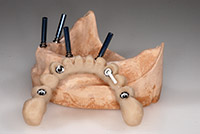 Insertion of the Seegers into all the titanium abutments.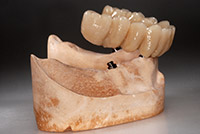 Even with the temporary dentures, the insertion patterns must be followed accordingly to the implant
divergences both on the model and into the patient's
mouth.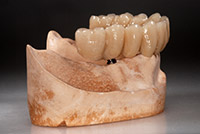 In case of strong disparallelisms (like an all-onfour) it is advisable to insert the bridge first on the
most inclined attachments, which in this case arethose located on the incisor area, then moving tothe posterior area, making the denture snap into the correct position.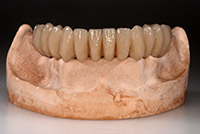 The resin-wire-reinforced bridge is finished and delivered to the dentist in about 2 hours.